The Paddle House is the first truly luxury vacation rental home on the rim of the New River Gorge. This beautiful brand new home was completed in July 2010. It sits just down the road from Adventures on the Gorge resort, home of Class VI-Mountain River and The Rivermen. Guests at the Paddle House can walk to the resort and take advantage of restaurants, live entertainment, resort amenities, and all the outdoor adventures of the spectacular New River Gorge area.
Beautiful Setting, Green Construction, Outdoor Recreation Mecca in Southern West Virginia
Paddle House is a 3,000 square foot luxury vacation home within the Wild Rock development on the New River Gorge.  Paddle House offers families and friends the highest-end lodging option available in the New River Gorge region. The vacation rental offers breathtaking views of the New River Gorge, including the famously photographed New River Gorge Bridge and the river far below. Guests will enjoy first-class accommodations in a four bedroom, four bath, pet-friendly vacation rental.
The Paddle House is professionally cleaned and disinfected before every stay, following CDC and Health Department recommendations to keep you safe and healthy!
Read the current press on this luxury rental home!
Key House Features:
3,000 square feet
Open great room with family and dining space
Seating for 14 in dining room
2 outdoor decks – one with hot tub
Indoor gas fireplace
4 bedrooms
4 baths
Laundry facilities on first and second floors
Doghouse
Firepit with stone patio overlooking the New River Gorge
Bike and walking trails along the Gorge rim and to Adventures on the Gorge resort
The House That Friends Built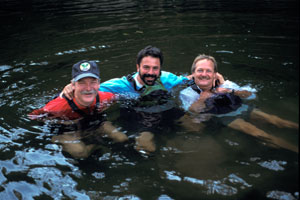 Some of the river guides who worked with Class VI in the 1970s and 1980s have gone on to open some exceptional craft businesses that Doug and Jeff Proctor and Dave Arnold have always wanted to showcase.  In helping build the Paddle House, these much loved friends and family have a venue to share their talents and aesthetic with the many who will travel to the New River Gorge for vacation.
Designed by Bahlmann Abbot, one of Class VI River Runners first raft guides, the house is a tastefully furnished mountain vacation home. It was built by skilled local craftsmen personally known by the owners.  Read more about the history behind the local contractors and guides-turned-entrepreneurs who helped build this home. Paddle House was built with eco-friendly and sustainable materials wherever possible in its construction.