The Paddle House is truly a unique vacation rental home and building project. Friends, business partners, and Class VI co-founders Dave Arnold and brothers Doug and Jeff Proctor hired these talented friends and colleagues to help create the quality home they envisioned for the Paddle House.
Design
Paddle House designer Bahlmann Abbot is a Fayette County native and son of Robert Abbot, who was a Fayette County circuit judge.  Bahlmann was one of the first guides that Class VI River Runners hired in the 1970s when Dave, Doug and Jeff started the company.  This house is modeled after a family retreat (called Saddle House) that Abbot designed in the Blue Ridge Mountains. Abbot says he's the only architect he knows that built a full-sized scale model for a client! www.bahlmannabbot.com
Construction
The General Contractor for the house was Craig Wood, owner of CR Wood Construction LLC in Fayetteville. Craig is a classic hands-on builder who is personally involved in each project his company accepts.  Wood's company installed the sustainable flooring described below.  For 28 years, he has been in business doing residential and light commercial construction.  Before that, he was a guide in 1976.
Flooring
Referred to around the Paddle House as "Willie Wood", this sustainable flooring comes from the post-Civil War Lindale Manufacturing textile mill in Lindale, Ga.  Former guide Willie Drake's Charlottesville, Va., company, Mountain Lumber began rescuing the historic heart pine wood beams and timbers from the mill in 2006.   For this project, Mountain Lumber acquired the wood, pulled the nails, cleaned the flooring up and cut it to size for Paddle House.  www.mountainlumber.com
Read the full history of this fascinating wood that graces the floors of the Paddle House. Lindale/Mountain Lumber Information PDF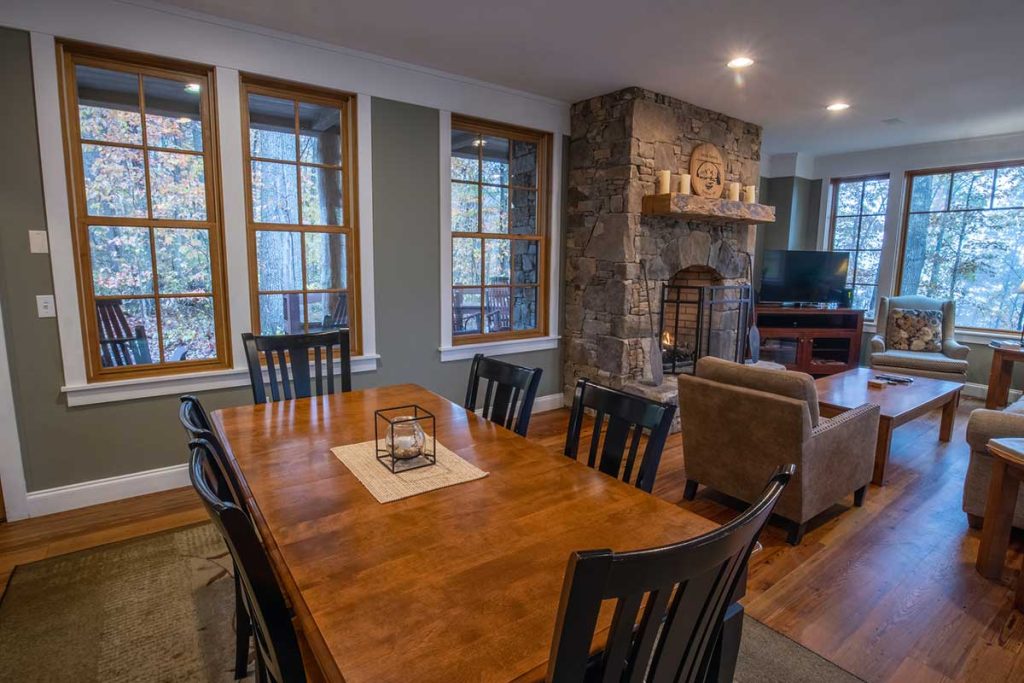 Cabinetry
The custom-made cherry cabinetry in the kitchen and bathrooms was handmade by former raft guide Chris Benner and his brother, Mike, who own Benner's Custom Woodworking. www.bennerswoodworking.com
Masonry
The custom designed fireplaces in the great room and on one of the decks were made by BJ and Katie Johnson.  BJ and Katie, are not only river guides but also world-class kayakers,  They hauled New River Gorge sandstone rock for the fireplaces they built for Paddle House.
Landscaping
Bill Mills of TerraSalis Garden Center, Malden, was responsible for the landscaping for Paddle House.  TerraSalis specialized in native plants and natural landscaping.  Bill's design for Paddle House makes the house gently disappear into the wooded setting on the rim of the New River Gorge.
Furnishings
The furniture for the house was purchased from Wells Home Furnishings in Charleston, West Virginia.  Interior designer Dave Cooper worked with the owners to select furniture that would be durable,  comfortable, and casually graceful for the guests who visit Paddle House.  www.wellshome.com